Suicide – Leading Cause of Death Globally and in Malaysia
Every year close to 800,000 people in the world take their own life and there are many more people who attempt suicide. Suicide is the third leading cause of death in 15-19-year-olds as reported by World Health Organization (WHO).
Dr Brendan J. Gomez from HELP University has also said that by 2020, mental illness is expected to be the second biggest health problem affecting Malaysians after heart disease.
In October 2019 alone, suicide has taken the life of kpop star Sulli and a Malaysian athlete Ayrton Lim, both at the very young age of 25 years old and 19 years old. It is thus timely and extremely crucial for us to start having conversation about mental health issues and what we can do to help prevent suicide.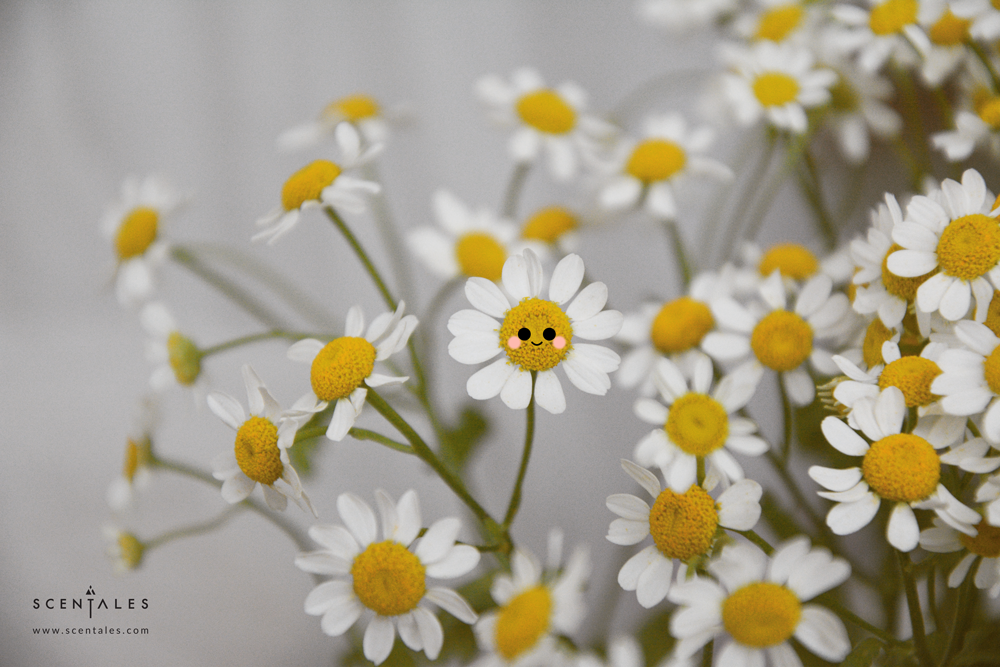 Mental Health Day Special Flower Design – Golden Hour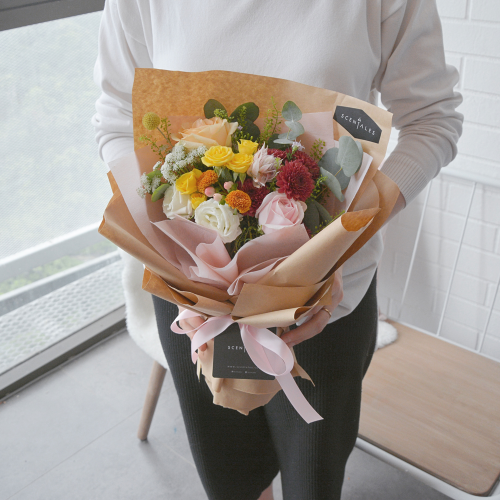 10 October is the World Mental Health Day. This year is the second year that we at Scentales are curating a monthly design in conjunction with the World Mental Health Day. In 2018, we designed 'Beautiful Mess' flower design for World Mental Health Day with inspiration from Pan's Labyrinth 'In darkness, there can be light. In misery, there can be beauty. In death, there can be life.' – Pan's Labyrinth.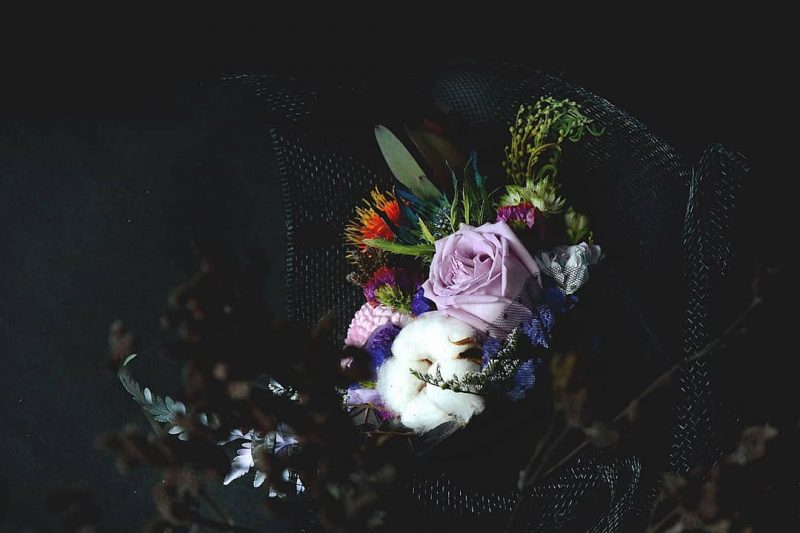 'Beautiful Mess' – Scentales 2018 Mental Health Awareness Special Flower Design
This year, the mental health theme by WHO is suicide prevention. In line with this year's theme, we decided to come up with a design theme that reminds us on how we can be the positive light, the golden hour to the people in need around us.
'You're my golden hour, the color of my sky, you've set my world on fire and I know, I know everything's gonna be alright.' – Kacey Musgraves
The lyrics from the song 'Golden Hour' by Kacey Musgraves echoes well with the sentiment of this year's theme. Be kind, be compassionate and we can be the golden hour to the people we cared.
Golden Hour – A Palette of Bright Colored Flowers
As the name 'Golden Hour' suggests, the main color we used in this design are bright colored flowers like yellow spray rose, champagne spray rose, pink rose, caramel calimero, white eustoma and white ammi.
Yellow spray rose and caramel calimero which have the natural colors that are close to the golden color are arranged at the center as the focal flowers of the design. Although these flowers have shapes and form that are smaller than other flowers such as pink rose or champagne rose, their bright colors stand out in the design and draw the attention of the viewers to these flowers at the first sight. Champagne rose and pink rose which have softer tones are arranged around the yellow spray rose and caramel calimero to make the focal flowers stand out. The maroon chrysanthemums are arranged at varying heights of the arrangement to give depth to the design and make the arrangement looks fuller. White ammi, thlaspi, yellow craspedia, eucalyptus, hypernicum peach berries and peacock all play a supporting role in this design, giving the design a dynamic texture and blending the color palette of the design from white to yellow to maroon.
For the wrapper of the design, we used brown paper with inner pink wrapper and pink ribbon. Brown and pink blend well with the flower design colors. The soft pink wrapper and ribbon also added a subtle sweet and happy vibe to the design.
Free Flowers – Spreading Awareness and Spreading Joy Around the Town
Flowers have the therapeutic effect that could bring joy to people. Thus, it is especially suitable to raise awareness for mental health as it is a natural medium of joy especially for those who are feeling sad or depressed.
On 10 October, the World Mental Health Day we went to Menara Gamuda and Mutiara Damansara MRT Station to give out some free flowers to bring some joy to the people and also to raise awareness on mental health issues.

We had such a wonderful time meeting people and putting smiles on people's faces. We feel warm and fuzzy when we received thank you messages from the receivers of the flowers, which goes to show that small gestures of kindness can really be the golden hour to brighten up another person's day.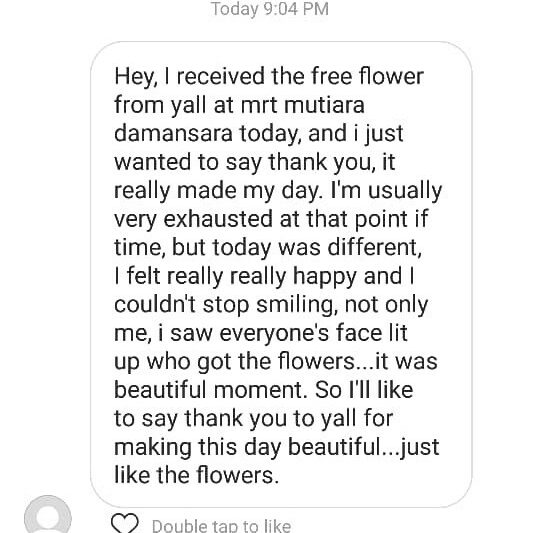 A message we received on Instagram from one of the flower receivers on the day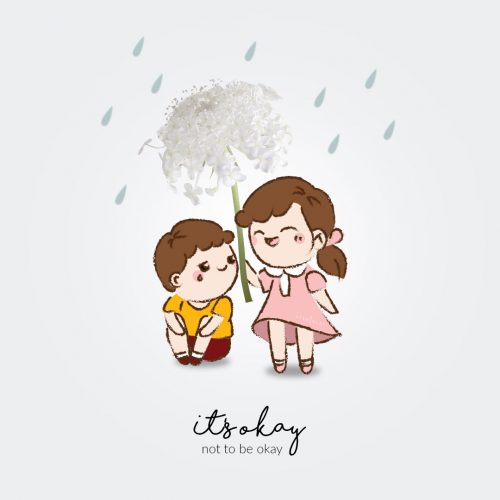 Sometimes society makes us feel like we have to always be happy. But it's not true, we all have good days and bad days and no one can be happy all the time. When it feels overwhelming and there is a dark cloud hanging over your head, we should remember that it's OK not to be OK. Don't be too hard on yourself and know that it's OK to feel down. Reach out and talk to people, do activities to help cope with the feelings or simply acknowledging what we are feeling can help us get through these dark days.
Let us show more compassion to the people around us and together let us build a more caring community. Be the golden hour to the people in need around us.
Written by: Kyle
Co-written: Clory
Photography & Illustration: Sharon.L