11/11 – What Does 11 November or 11/11 Mean to You?
11/11 or 11 November takes on a different meaning in different parts of the world. Its significance also seem to evolve, change and grow with time.
In South Korea, 11/11 is celebrated as Pepero Day. It is named after the famous Korean snacks, Pepero – a chocolate-dipped cookies stick. The day is celebrated in a manner similar to the Valentine's Day, with people exchanging gifts of Pepero sticks and other gifts as a sign of affection for friends and loved ones.
In China, on the other hand, 11/11 takes on a completely opposite meaning than in Korea. In China, 11/11 is known as Singles Day or 光棍节. It is an unofficial shopping holiday for the bachelors. The holiday has become one of the largest offline and online shopping day in the world. The recent 11/11 in 2019, Alibaba has set a new one day sales record of USD 38.3 billion! This shopping trend is now not only widely popular in China, but also in Asia. In Malaysia, 11/11 is also the biggest sales event of the year, especially for online retail stores.
Although 11/11 today is almost synonymous to shopping day, we like the meaning and motivation behind the day. It is a day to celebrate being single. Going on a shopping spree is one of the many ways of rewarding and treating ourselves! But what does Singles Day mean to us in Scentales?
11/11 Special Flower Design – Vanity Affair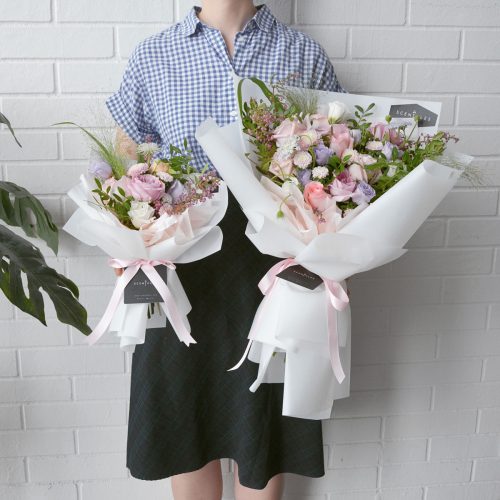 The name of our November special design is called Vanity Affair. Let's break it down and see what does each of the word in the name mean:
Vanity (noun): the fact that you are too interested in your appearance or achievements.
Affair (noun): a situation or subject that is being dealt with or considered.
e.g. She organizes her financial affairs very efficiently.
So putting it together, Vanity Affair in our interpretation means an event and celebration about ourselves. It is a celebration where we feel proud of our appearance, achievements and who we are. Our Vanity Affair was designed to be showy and lavish and most importantly vain. On Singles Day 11/11, we don't have to be shy about loving ourselves, it is after all a Vanity Affair worth celebrating!
Vanity Affair – The Flower Design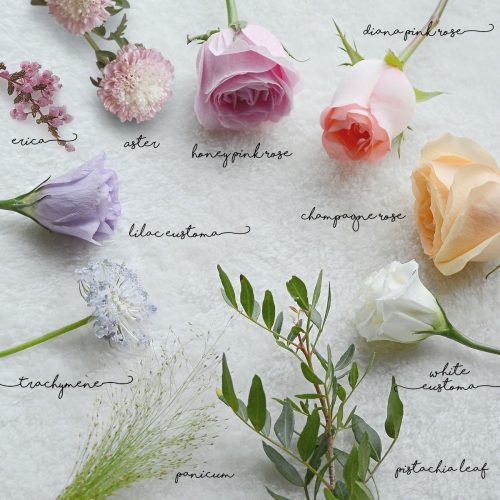 The color tones we used in the Vanity Affair design are meant to make the design look like a sweet indulgence. These flowers are sweet temptations that you could not resist to get one to gift yourself and indulge in a sweet date with yourself because you're worth all the love and beauty in life!
The flowers we used in this design are all significant in their own way.
Lilac Eustoma: The flower means happiness, joy and positive energy. Isn't this the perfect flower for a self-love theme design? It also helps that the color of the flower is soft and sweet. Definitely a must-have for a Vanity Affair!
Aster: Aster means 'the star'. Remind me again who is the star? You are! You are the star ?.
Trachymene: Trachymene also known as lace flower is an eye-catching flower that has rounded globes of tiny, star-shaped flowers in shades of sky blue or purple. It takes time for all the tiny flowers on trachymene to fully bloom. Isn't this like our life where we take time to learn about ourselves and grow? One day all the tiny pieces in our life will come together as a whole just like the fully bloomed trachymene flower.
Erica Flower: Erica flower is associated with good luck. These tiny flowers are hard not to notice. They add beautiful texture to the design and they are also like tiny lucky stars used to represent the blessings for the receiver of the bouquet!
Panicum: We added this flower because it looks like fireworks! Yes, fireworks for 11/11! Happy Singles Day!
As for the wrapper we choose a soothing peach color inner wrapper and white outer wrapper. The inner peach color blends well with the soft tone design while the white wrapper gives a fresh and clean finishing touch to the arrangement.
Journey of Discovering Ourselves – Heart Station & Soul Station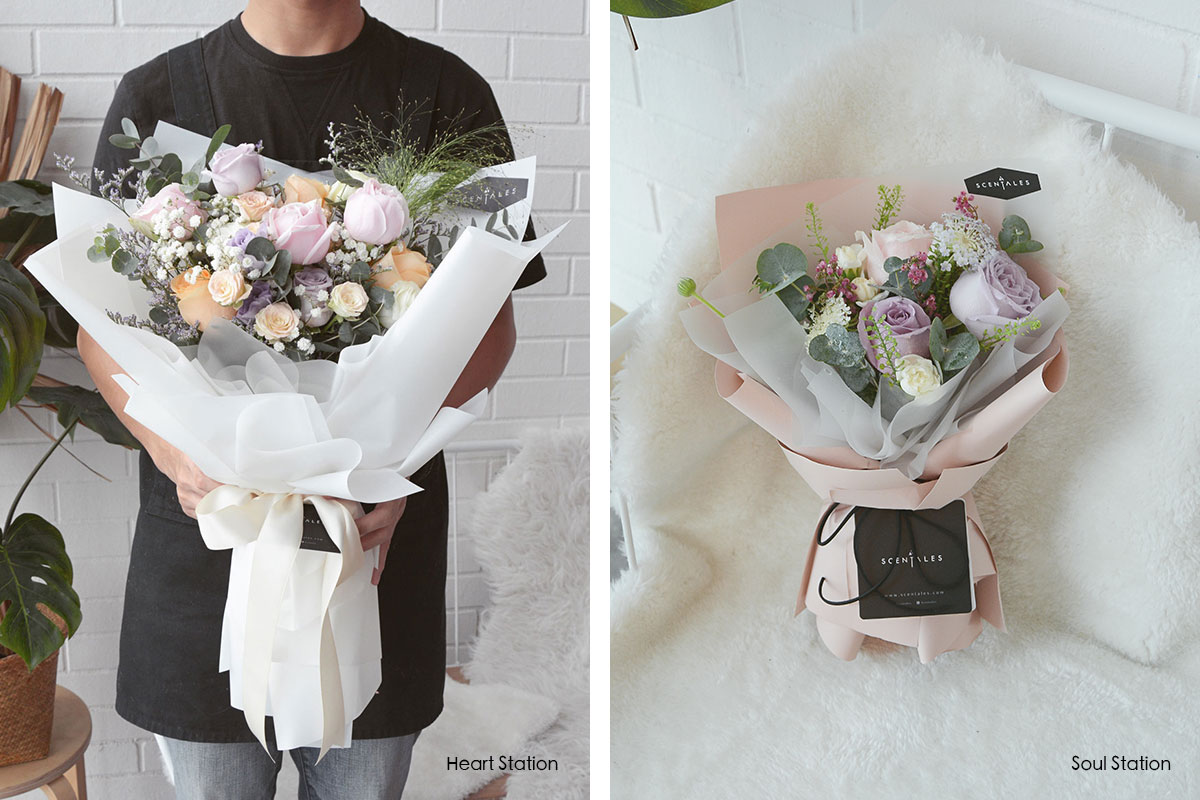 Besides Vanity Affair, we have also designed two siblings bouquet of Vanity Affair, named Heart Station and Soul Station.
Welcome to the Heart Station and the Soul Station. To all the free spirits, broken hearts and the lonely souls, the Heart Station is a place to tune in to the frequency of our hearts and the Soul Station is a place we can listen to the melody of our soul. To some of us, we need a stop in life to take a break and heal, while to others, this is the destination, where our hearts are full.
These designs are meant to about the stops we take in our life where we enjoy the journey of self exploration to learn more about ourselves.
We had such a wonderful time meeting people and putting smiles on people's faces. We feel warm and fuzzy when we received thank you messages from the receivers of the flowers, which goes to show that small gestures of kindness can really be the golden hour to brighten up another person's day.
I Have a Date with Myself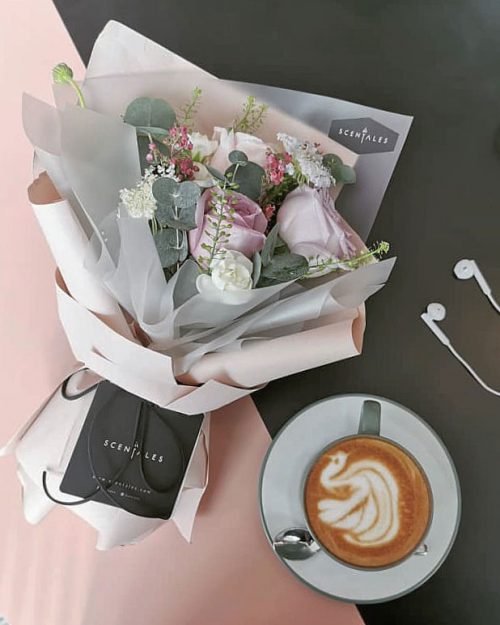 "If you don't love yourself, how in the hell you gonna love somebody else?" – RuPaul
RuPaul is right on about this. We have to learn to live, accept and love ourselves before others can love us or before we are ready to love somebody else.
Coffee for one, table for one and a flower for myself. Enjoying my favorite music and looking at the scenic view outside of the café, time flows at a rhythm that I am most comfortable with. This is my ideal date with myself, what's yours? Tell us in the comments below what would be the ideal date with yourself be!
November is just one month away before the year draws its curtain close before ushering in the new year. How about we make November a Vanity Affair that you would never forget? Let's celebrate the month in our own unique way
Written by: Kyle
Co-written by: Clory
Photography by: Sharon.L