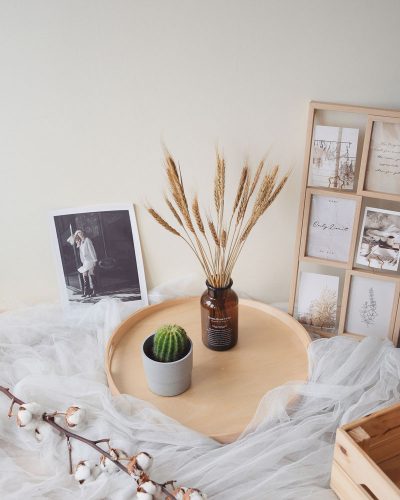 Rethink, Reimagine and Recreate Flowers – Giving Fresh Flowers a New Purpose and Life
Fresh floral arrangements in an event or a wedding can give life and character to the venue and brighten the atmosphere of a celebration. Yet, once an event is over, the flowers are usually discarded and disposed of, creating a large amount of flowers wastage. Due to the short lifespan of flowers, the floral industry traditionally has a very high wastage of flowers.
What if we can enjoy the beauty of flowers in another form for a span of months or years? What if we can recreate and repurpose flowers to take on a new life?
Dried flowers are one of the many ways to repurpose fresh flowers. Dried flowers are fresh flowers that are dried naturally while they are fresh and before they start to wilt. Dried flowers have a shelf life of around half a year to two years if they are kept and taken care properly.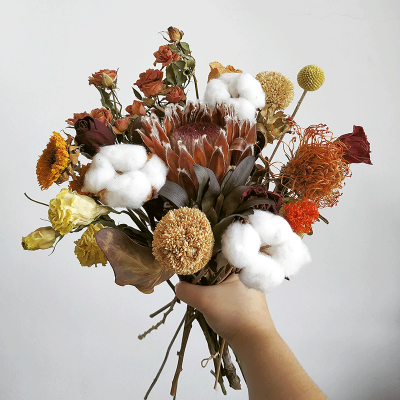 Top 3 Reasons Dried Flower is a Growing Trend
Dried flowers are increasingly gaining traction and popularity. We think it will be one of the biggest floral trends moving in to 2020.
What exactly is the appeal of dried flowers that seem to resonate with today's generation?
Here are some of the reasons why dried flowers could delightfully add value to our lives:
The millennials are a generation that is eco-aware. Issues on sustainability strike a chord with this generation. Compared to fresh flowers arrangement that could be enjoyed over a timespan of a few days, dried flowers are longer lasting and their beauty can be enjoyed for a much longer time. So, instead of replacing the fresh flowers decoration every few other days, dried flower arrangements can last longer.
A complement to
fresh flowers
Instead of thinking dried flowers as a substitute for fresh flowers, we can think of dried flowers as a complement to the fresh flowers. Dried flowers open up a whole new universe of color palettes and textures, expanding the spectrum of available choices for florists' selection in a flower design. When looking for colors that are antique, gray and muted, dried flowers fit perfectly in this category. Dried flowers can be arranged in a design of pure dried flowers mix or used together with fresh flowers to create a more dynamic arrangement.
Low maintenance and
minimalist home décor
As the generation today has a penchant for a minimalism lifestyle and design, dried flowers will be at the top of a minimalist favorite home décor items. Dried flowers are a great addition to elevate the interior designs of a home. Compared to fresh floral arrangements, which need attentive care and need to be changed often, dried flowers are cheaper, have lower maintenance and lasts longer.
Besides that, using organic, natural colors and textures materials are also a growing trend in interior design. There is an innate desire for us to connect with nature, especially if we live in the hustle and bustle of a city life. Dried flowers bring nature and simplicity in to our homes and lives, providing comfort and peace of mind to us.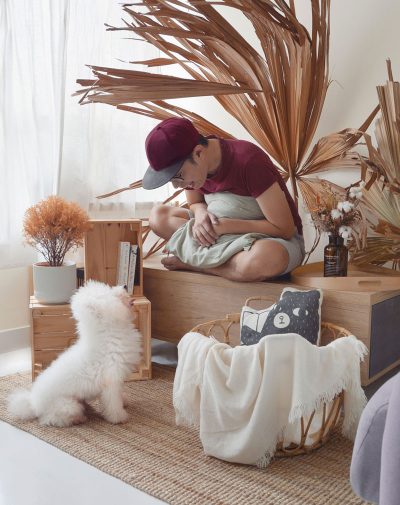 How Dried Flowers Can Be Part of Our Lives
Dried flowers are very versatile and they can blend in to our lives in many ways. While most flowers can be dried, there are some that are more suitable to dry than others.
It's good to have in mind what you plan to do with the dried flowers before deciding on what flowers to dry. For example, if you are looking to make a dried flower bouquet, you can look for flowers with different texture and different colors, while for flower accessories, you can look for flowers that are smaller and delicate.
Some of our personal favorite dried flowers selection include: protea (it retains the shape and texture of fresh flowers), statice, caspia, craspedia, gomphrena, lavender, carthamus (they retain the color and look as their fresh counterparts), eucalyptus, roses (beautiful dried texture).
As dried flowers usually take on a much different texture, color and feel from the fresh flowers, at the end of the day, it is all about experimenting how to best dry them and how you can incorporate them in a design.
Here are some of the ways you can bring dried flowers in to your life: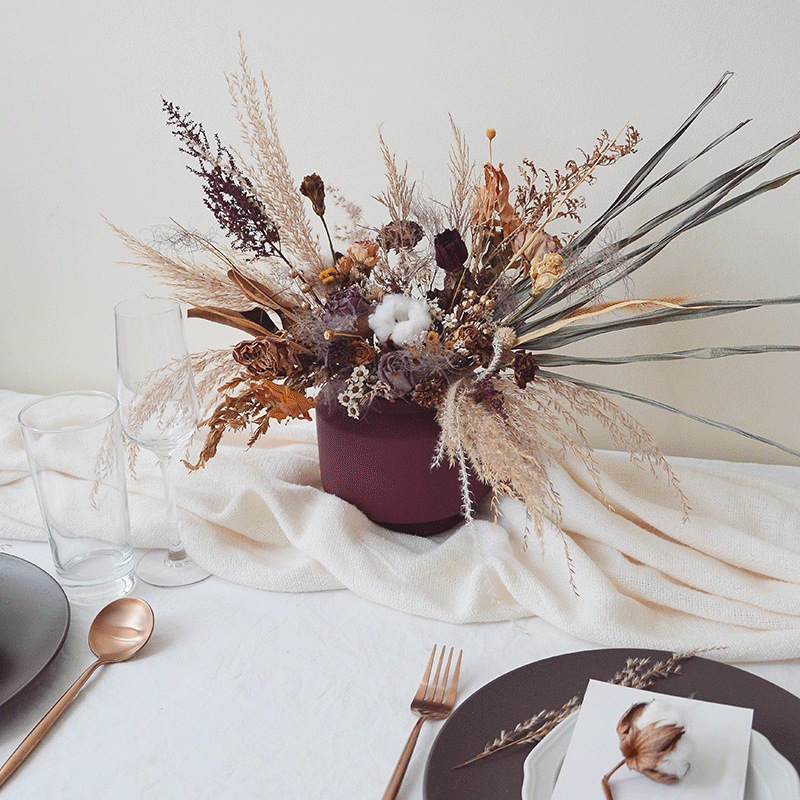 Home Décor – Vase Arrangements
A dried floral arrangement can be bold and wild, or simple and modest. If you prefer a minimalist design, you can choose an earthy or a simple vessel or container. Simply arrange a few stalks of dried flowers such as dried roses, dried caspia or dried pampas in the container and you are done. If you would like to go for a more elaborate design, simply mix in your favorite dried botanicals. Depending on the color mood you are going for, you can add hints of colors in to the arrangements using for example, dried yellow craspedia for yellow color, or dried lavender for purple color. Mixing in foliage and wild grasses will give the arrangement added texture.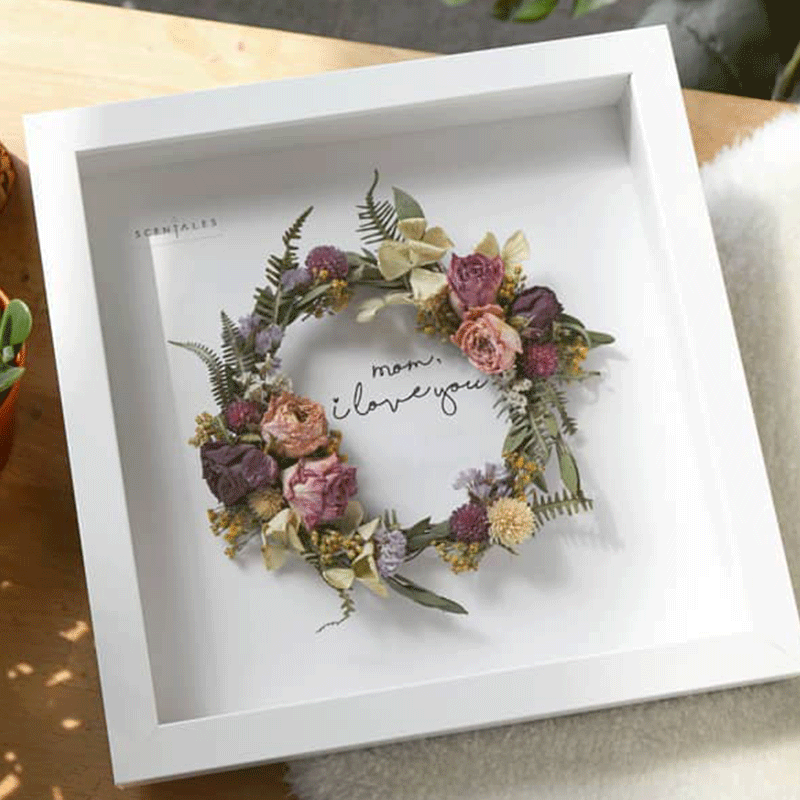 Home Décor – Frame and Wreath
During Mother's Day this year, we have designed a dried flower wooden frame. It is a mini wreath framed in a beautiful white wooden frame. The dried flowers selected for this design are small and delicate with intricate textures. The base of the arrangement is made using rounded rattan. We use tweezer to arrange the flowers on the rounded rattan as the flowers are bristle and fragile. Then we use glue to secure the flowers on the rattan. Finally, we spray the flowers with hair spray to prevent the flowers from shedding easily. A dried flower wreath can be created in a similar manner. As wreath is typically larger, you can add bigger type of dried blooms, berries and foliage to the arrangement. They can be used to adorn the living room space during the Christmas season. They are also suitable to send in a funeral tribute.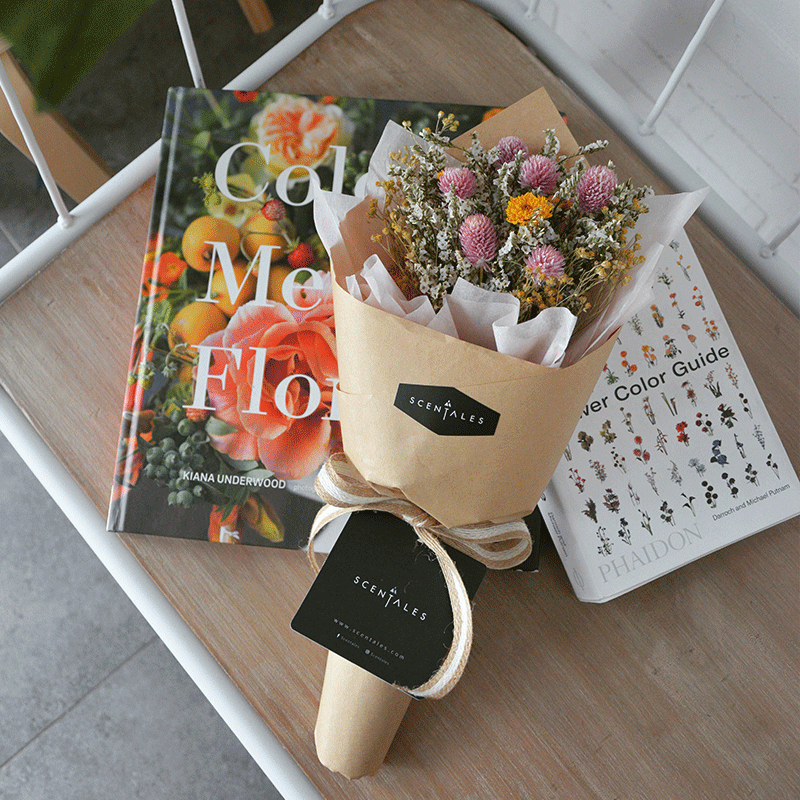 Dried Flower Hand Bouquet and Bridal Bouquet
Arranging and designing a dried flower bouquet is slightly different from a fresh flower bouquet. Dried flowers are more fragile than fresh flowers as their stems become bristle after dried, so care need to be taken when arranging the flowers. The colors and texture of the dried flowers also tend to have a more worn and earthy color, so it is about playing with the natural shape and texture of the dried flowers.
Similar to a vase arrangement, think about the theme, texture and color of the design you are going for to select the dried flowers varieties. Begin arranging the bouquet in a clockwise fashion, so that you won't break the bristle stems. Start with the focal flower in the middle and slowly work your way outwards. Once you are happy with the final arrangement, secure it with tape or dental floss. Wrap another layer of ribbon on top of it so that the tapes are or floss are not visible. If you would like to wrap the bouquet, we suggest using simple wrappers such as kraft paper wrapper or Morandi color tones wrapper.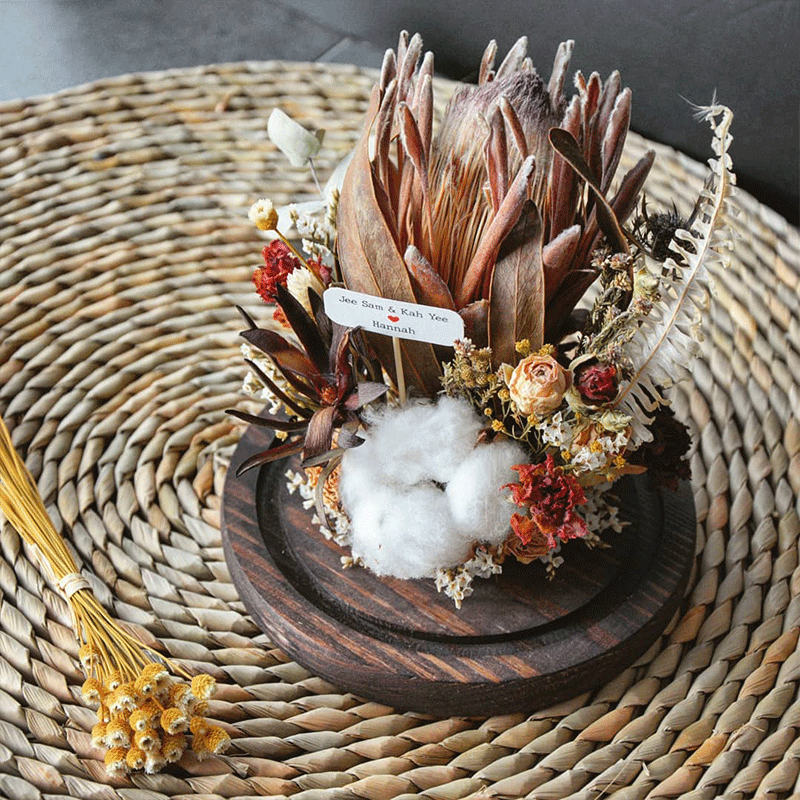 Dried Flowers Bell Jar Designs
Dried flowers are particularly suitable to be encapsulated in a bell jar design.
One of our customers, Jee Sam and Kah Yee purchased a bridal bouquet from us for their wedding. After their wedding, we helped them to dry up their bridal bouquet. On their baby's full moon celebration, we rearranged the dried bridal bouquet in a bell jar design as their baby's full moon gift. Their beautiful love story has come a full circle with the birth of their first born child. This bell jar design encapsulates and memorializes the fond memories of the day Jee Sam and Kah Yee tied their knot and the immense joy they experienced when they welcome a new life in to their family.
Dried flower bell jar is a beautiful way to repurpose and recreate the bridal bouquet to another form that lasts longer. The dried flowers bell jar designs are very delicate art piece that will take handcraft skills and patience to arrange and design.
Did you enjoy the dried flowers ideas we shared above? If you are dried flowers lovers like us or if you want to get on board to follow the dried flower trend, you can check out these hashtags on Instagram for more inspirations and ideas: #driedflowers or #driedflorals.
Here are some of our own dried flower collections in store:
Written by: Kyle Tan
Photography by: Sharon Lam