What is Scentales Kraft Bag Flowers?
Scentales Kraft Bag Flowers is one of Scentales' original creations and it is one of our best-selling signature products loved by many Scenties. Scentales Kraft Bag is made using high quality imported Germany kraft paper. Each of the character on the kraft bag is carefully hand drawn and hand painted by our in-house designers. Seasonal special flowers are then carefully arranged in the kraft bag by our floral designers to bring alive the kraft bag characters!
How did the idea come about?
At the core and heart of Scentales, we have always wanted to create products that are interactive and fun. So during the brainstorming session in one of our product development meetings, we had the idea of introducing character designs to our products. We want to bring alive the flowers and product to be more interactive to the customers. The kraft bag is thick and durable and has a size that is just nice to hold in the hand, making it the perfect candidate to animate the character designs to the floral products!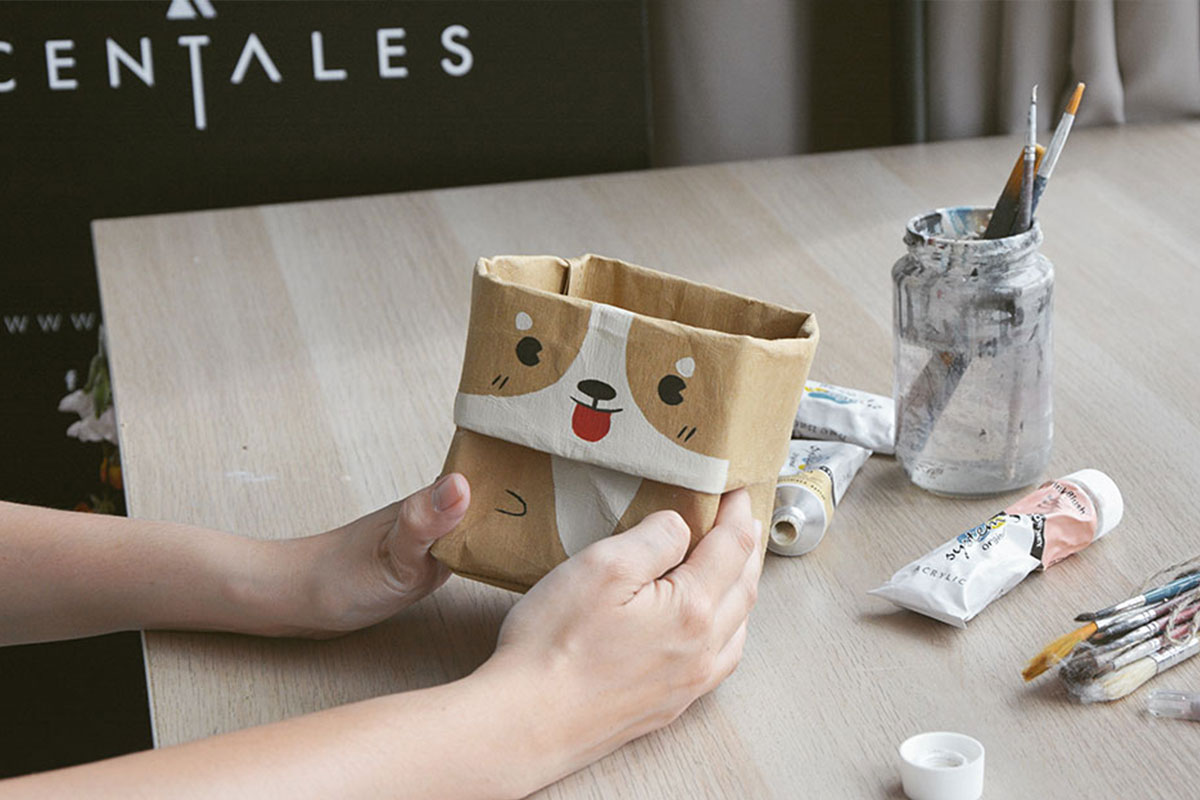 A versatile and reusable product
Our kraft bags are painted with water-resistant paint. Once the flowers in the kraft bag are wilted over time, you may wash and reuse the kraft bag for other purposes! We will be sharing ideas and ways to reuse the kraft bag in our next journal post! Do feel free to also share with us how you are using the kraft bag in your daily lives by using hashtag #scentaleskraftbag on your Instagram posts!
To date, we have introduced 7 characters from our Scentales family! Check them out below!
Christmas Edition
We first introduced the two kraft bag flowers characters through our Christmas series of flowers.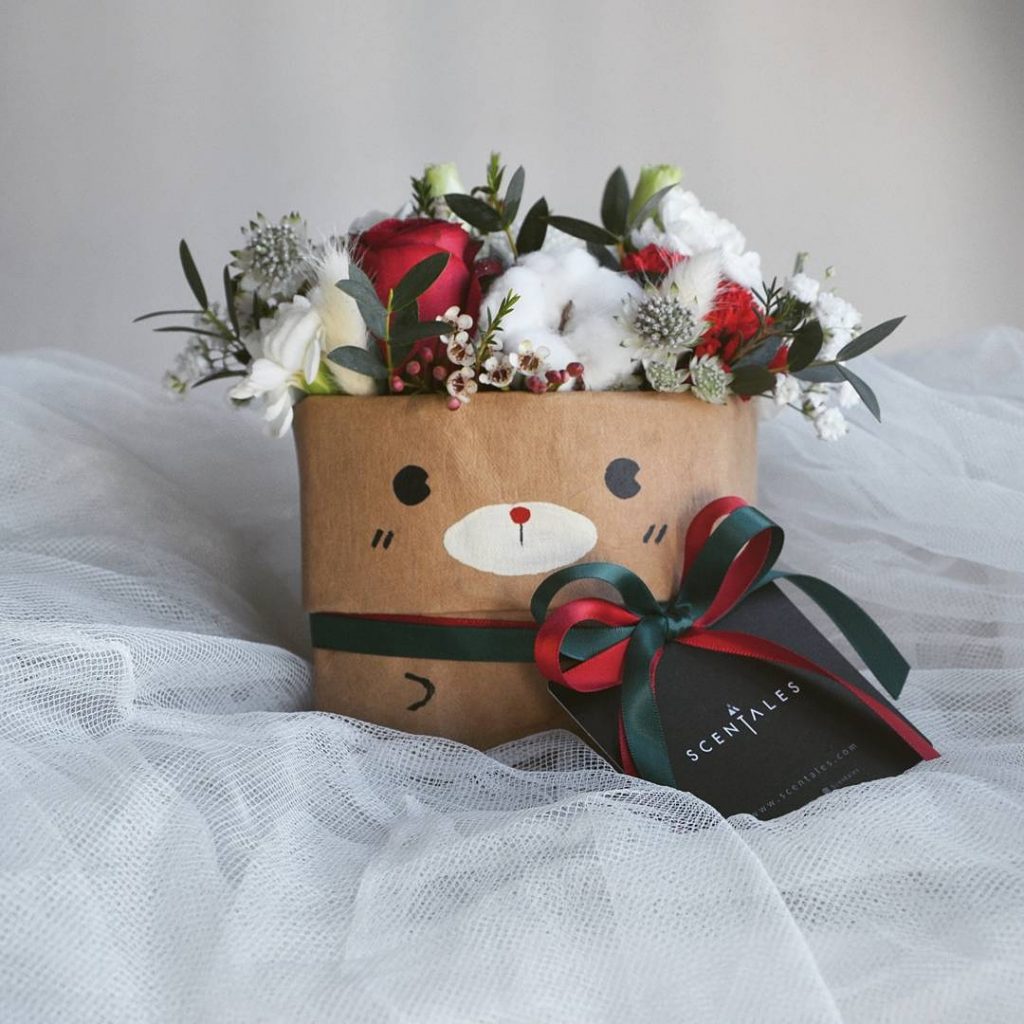 Rudolph the Reindeer
Rudolph is playful and naughty. Wherever little Rudolph is, there will be laughter. Guess what is little Rudolph favorite season? Christmas of course, that's when he gets to follow Santa out to play and brings laughter and joy to children!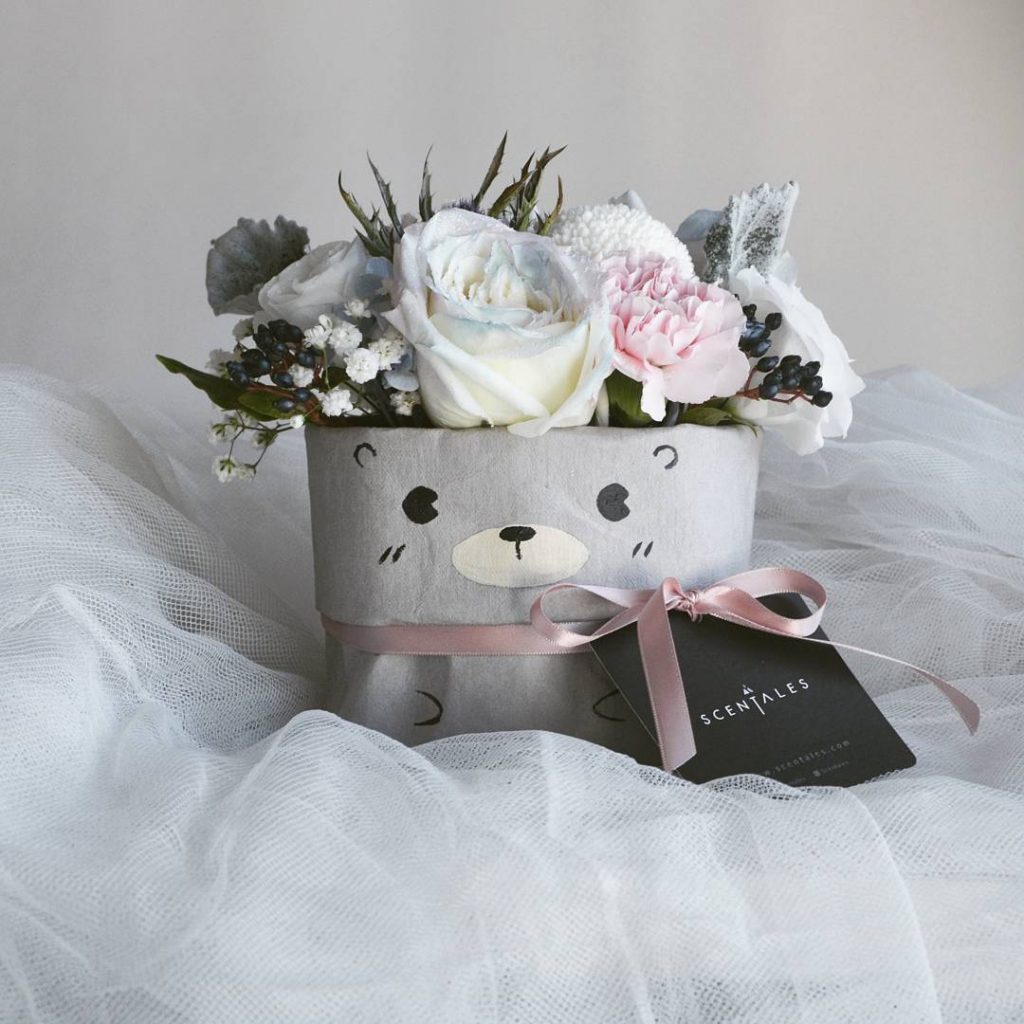 Fuzzy the Grey Bear
Fuzzy the Grey Bear is shy and kind. Little Fuzzy might be a bear with few words, but he is warm and fuzzy on the inside. During the festive season of Christmas, little Fuzzy likes to prepare small gifts and put them by the bedside of his friends while they are asleep. Isn't he such a sweetie?
Valentine Edition
After Fuzzy and Rudolph, then came along Coffee the Corgi and Milk Tea the Kitty in our Valentine Dessert series of flowers!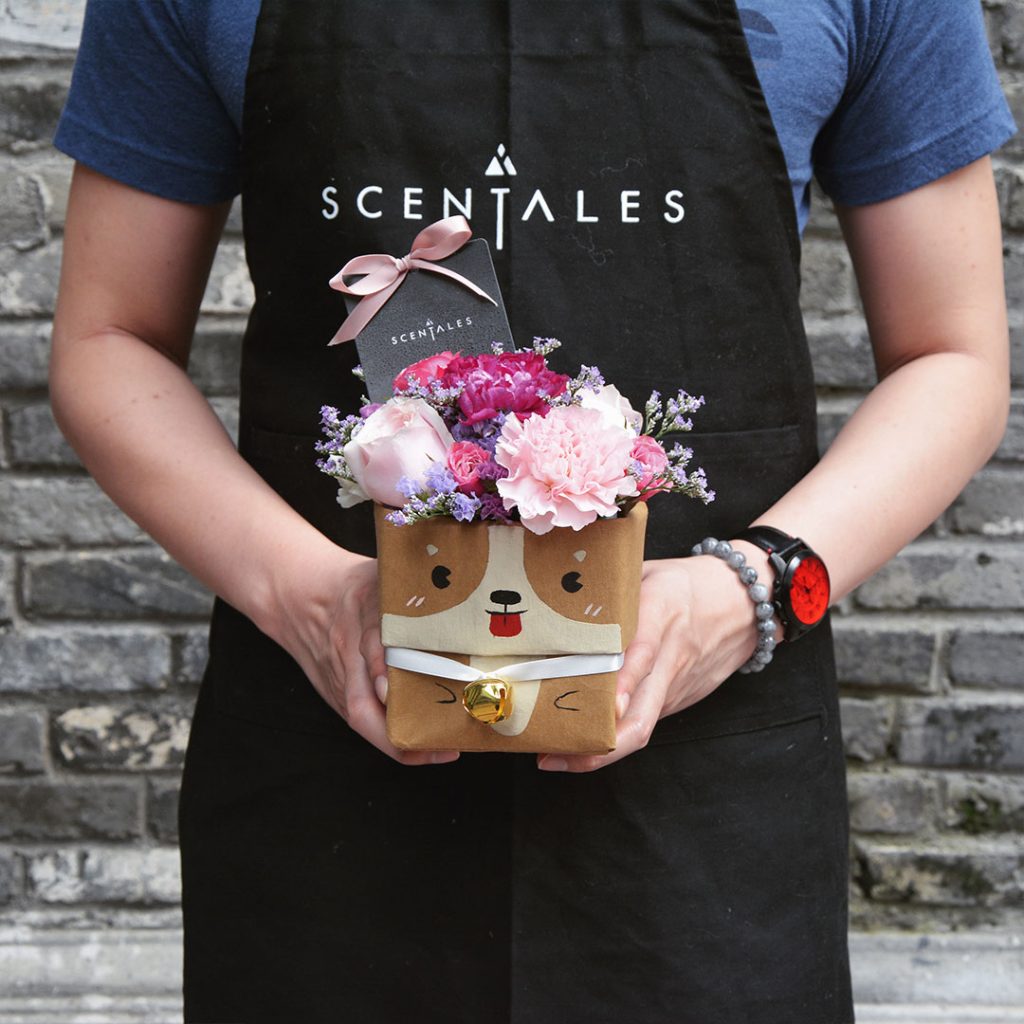 Coffee the Corgi
Coffee the Corgi is a doggy that loves food! Doesn't matter Coffee is angry, happy or sad, food is the only way! Does Corgi remind you of anyone you know who is always hungry?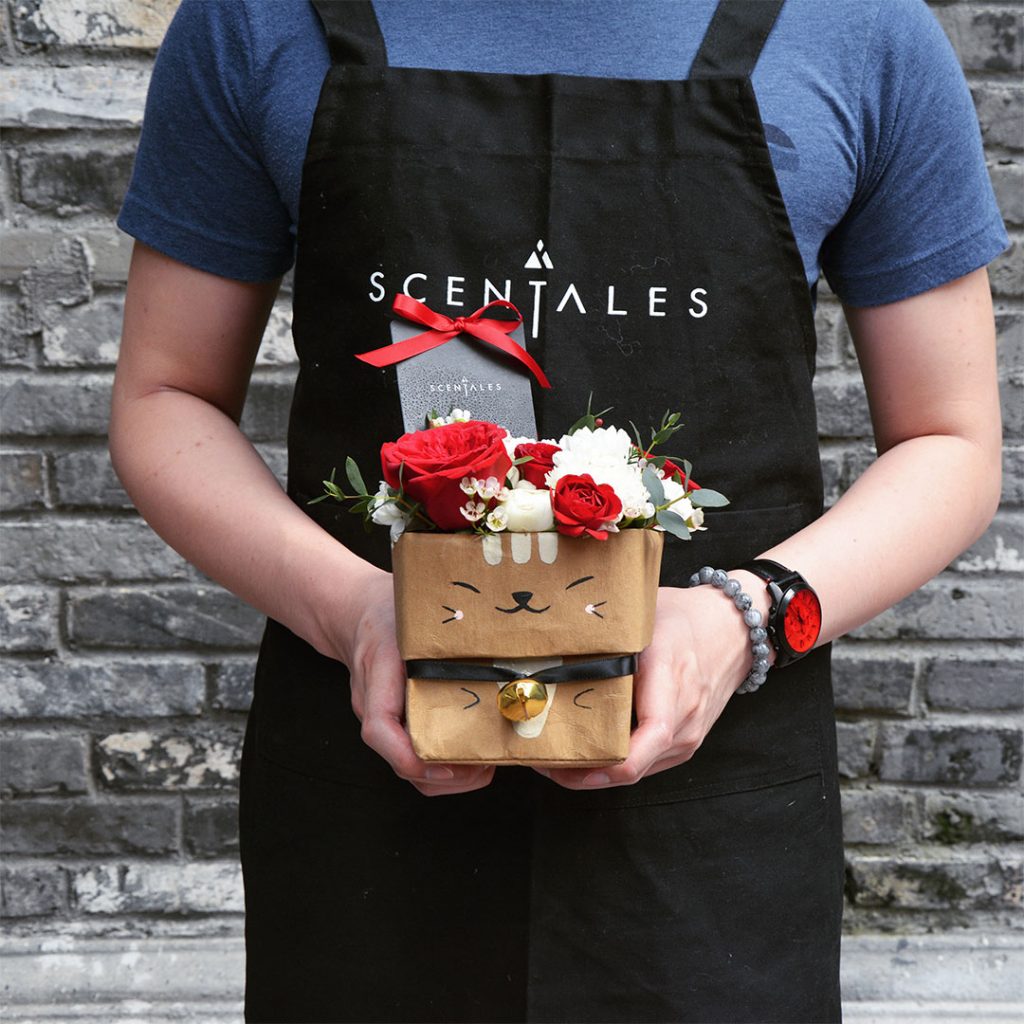 Milk Tea the Kitty
Milk Tea the Kitty likes shopping and grooming! If you want some fashion tips, Milk Tea is the fashionista who can tell you what #ootd to put on!
Easter Edition
During the easter season, Ash the Bunny make a special appearance in Scentales!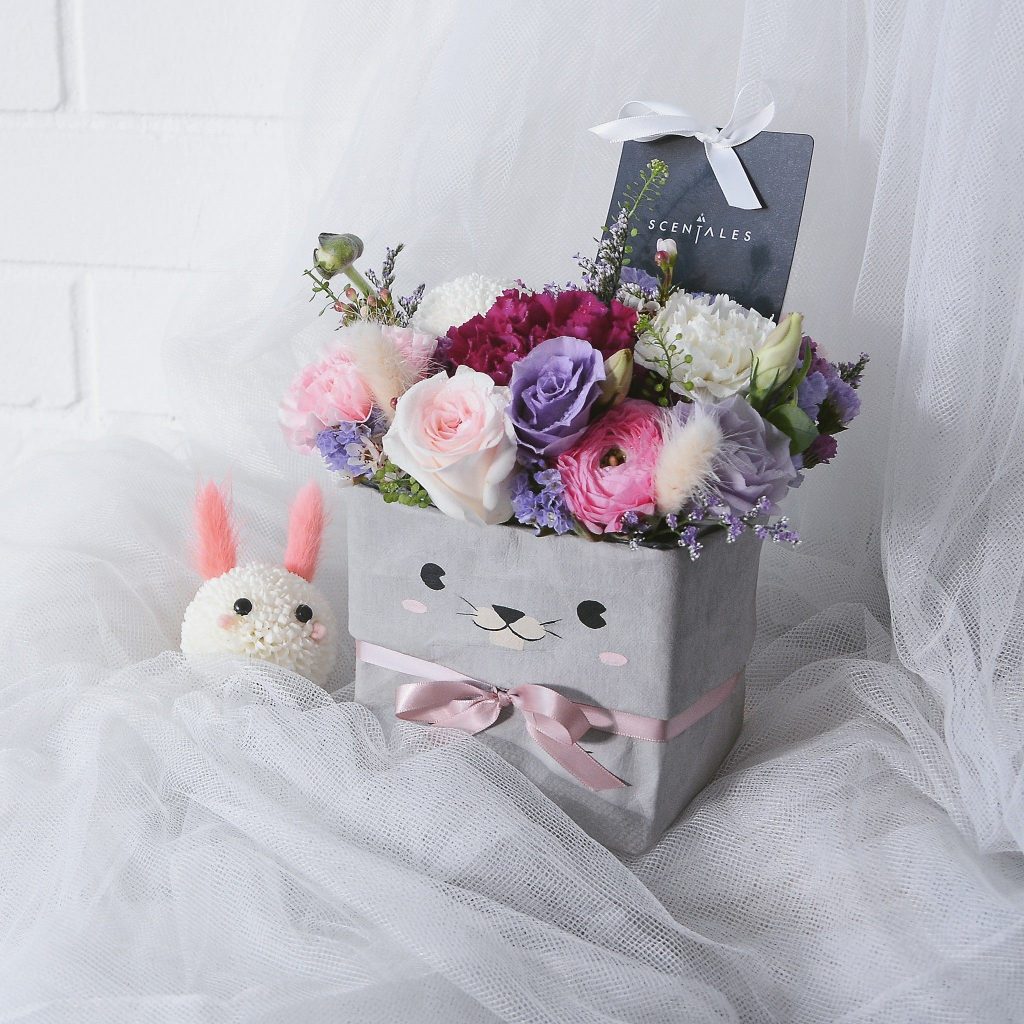 Ash the Bunny
Meet Ash, the loving and handsome bunny. Ash likes gardening, nothing makes Ash more happy than to see the flowers he planted come into beautiful blooms!
Come play with Ash and he will plant a garden of flowers in your heart!
The Black Pet Character Series
Our kraft bag characters are just as diverse and colorful as our flowers. As we celebrate diversity here in Scentales, meet our beautiful dark skin characters!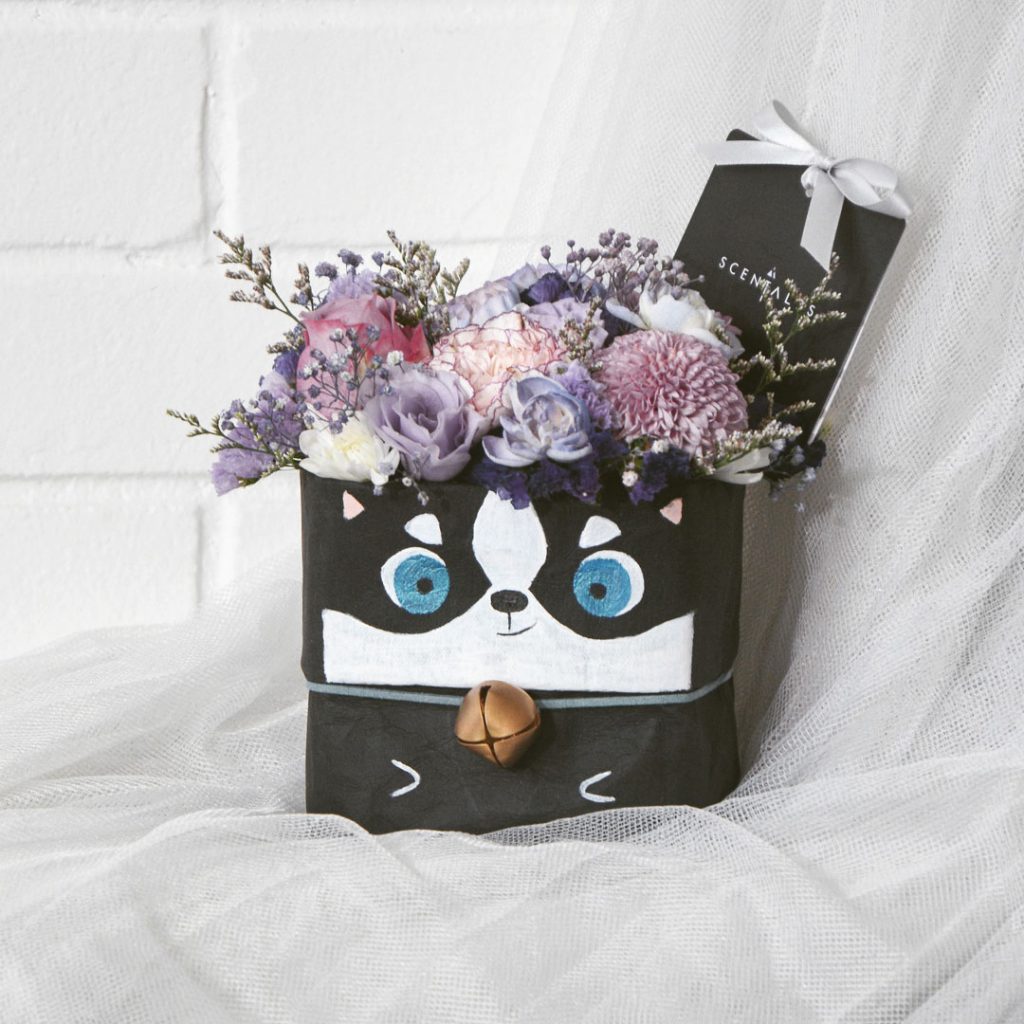 Loki the Husky
Loki the Husky is the smartest Husky in town. Everyone in town loves Detective Loki! Loki is in charge of solving all the mysteries in the city! Facing a tough problem in life? Detective Loki will have the solution for you 
?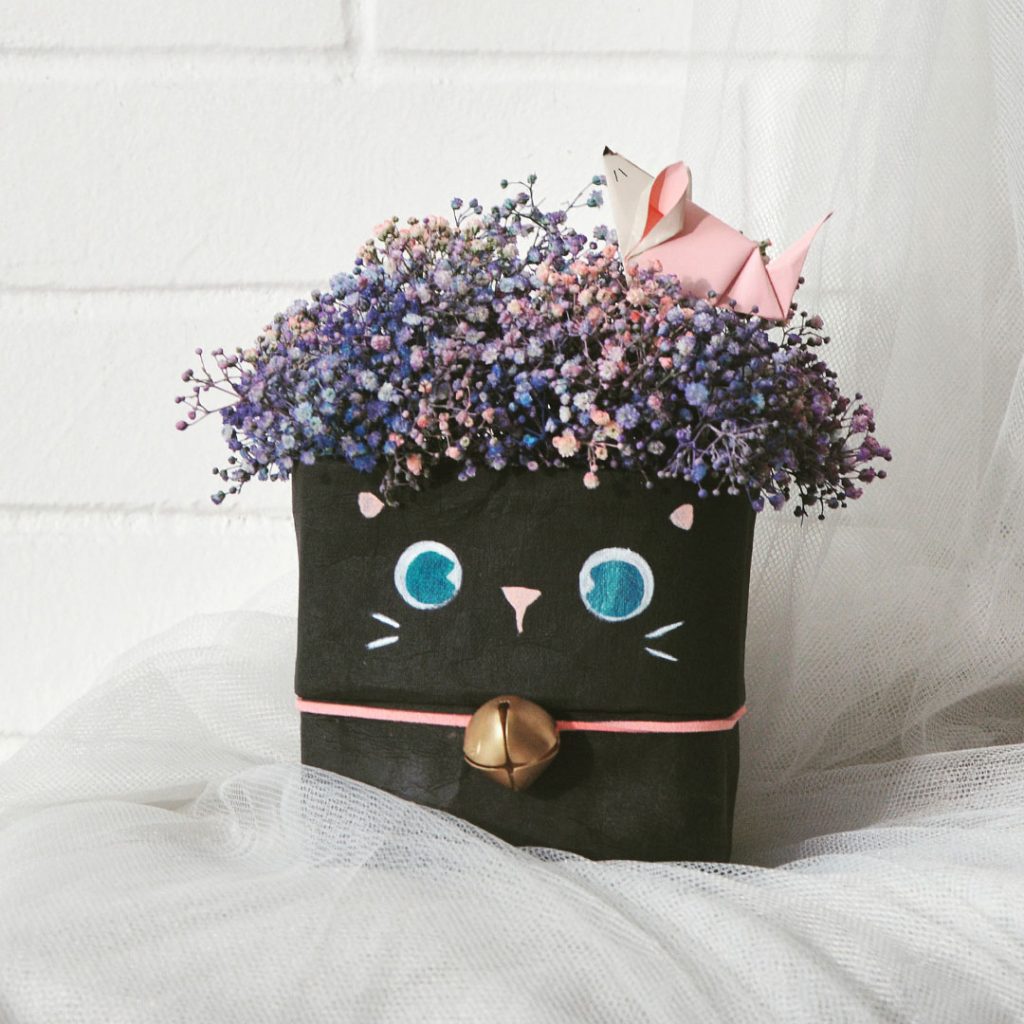 Luna the Cat
Luna is a blurry blurry cat 
?
. She has been searching everywhere for her cheeky friend Mousey?. Hey Detective Loki! Can you help Luna find Mousey?
Did you enjoy our series of Kraft Bag characters? Tell us which one is your favorite character! Are there any other characters you will like to see on Scentales? Let us know in the comment below!
Written by: Kyle Tan
Character Design by: Sharon Lam
Photography by: Sharon Lam & Colleen Tan