"'Ohana' means 'Family'. Family means no one gets left behind." – Lilo, Lilo and Stitch, 2002.
Growing up, one of my favorite animations was 'Lilo and Stitch'. It is a fun and warm story about the adventure of Lilo and her little friend Stitch. Together, they experienced and learned the meanings of 'love' and 'family'.
Our 2019 Mother's Day theme work around this concept of 'Family and Home'. This theme is very close to our hearts and we hope the final products that we developed can bring warmth to the family and pulls the bonds of family a little closer!
Fresh Flower Bouquets
We have two designs for our flower bouquets named in Hawaiian language: 'Ohana' and 'Makuahine'. 'Ohana' means family while 'Makuahine' means mother.
Ohana Flower Bouquet
A mother tends for her family like a gardener caring for a beautiful garden of flowers. Our 'Ohana' bouquet looks like a beautiful garden of flowers, growing in harmony and supporting each other just like how a family does.
'Ohana' bouquet has a refreshing mood with a few layers of different pink, white and green tones. The color gradient flows from white to pink to purple. The design has 4 different pink tones, with fuschia pink rose, a cool pink tone flower as the main flower. To make the color tone more dynamic than a flat pink, we added a pinch of light purple using statice. We then added apple green color from the green berry to brighten up the bouquet for it to look cheerful. Peach color berry, a warm pink color were added to bring the cool (purple from statice) and warm (green from berry) tone together. The white tones of the design are from ping pong and baby's breathe, both with different texture.
Finally, barbathus were used as a filler for this bouquet to blend the pink and purple / white tone of the design. Barbathus is the perfect choice as filler for this bouquet as the flower itself has 3 shades of colors that match with the color theme of this bouquet. Barbathus also look like tiny butterflies which fits well with the theme of the design.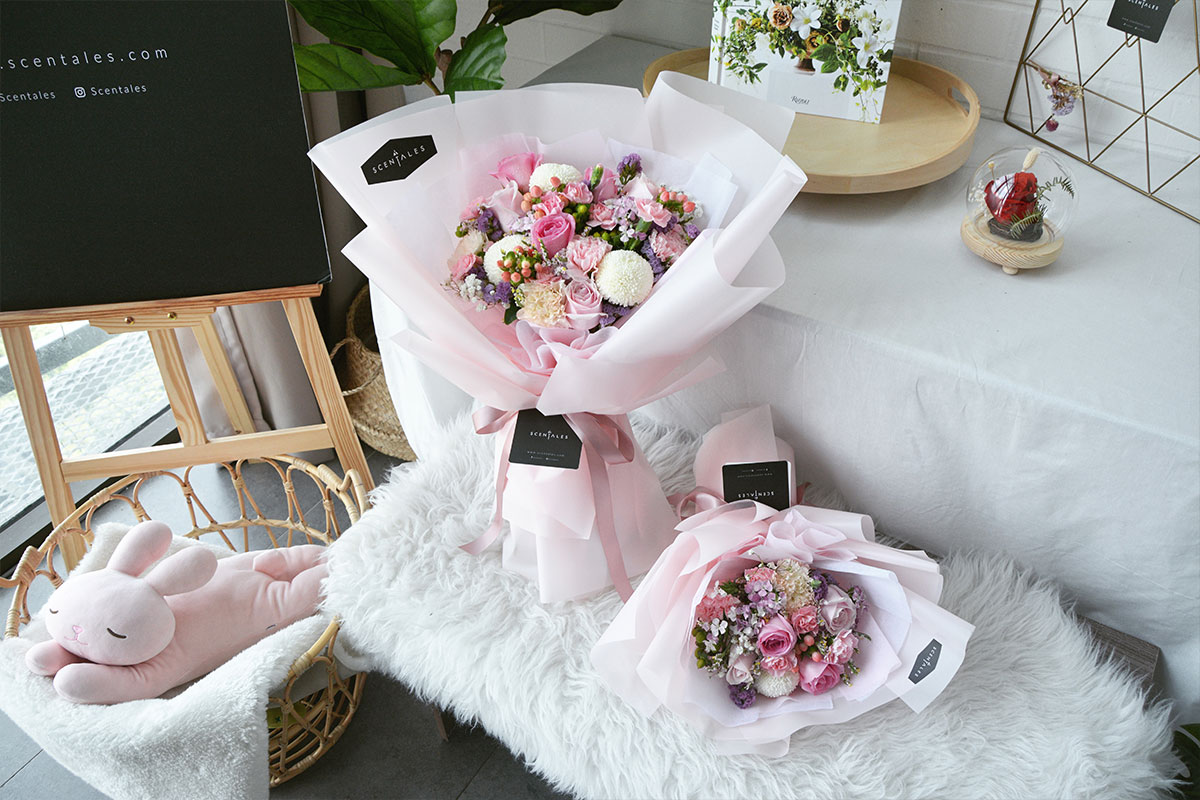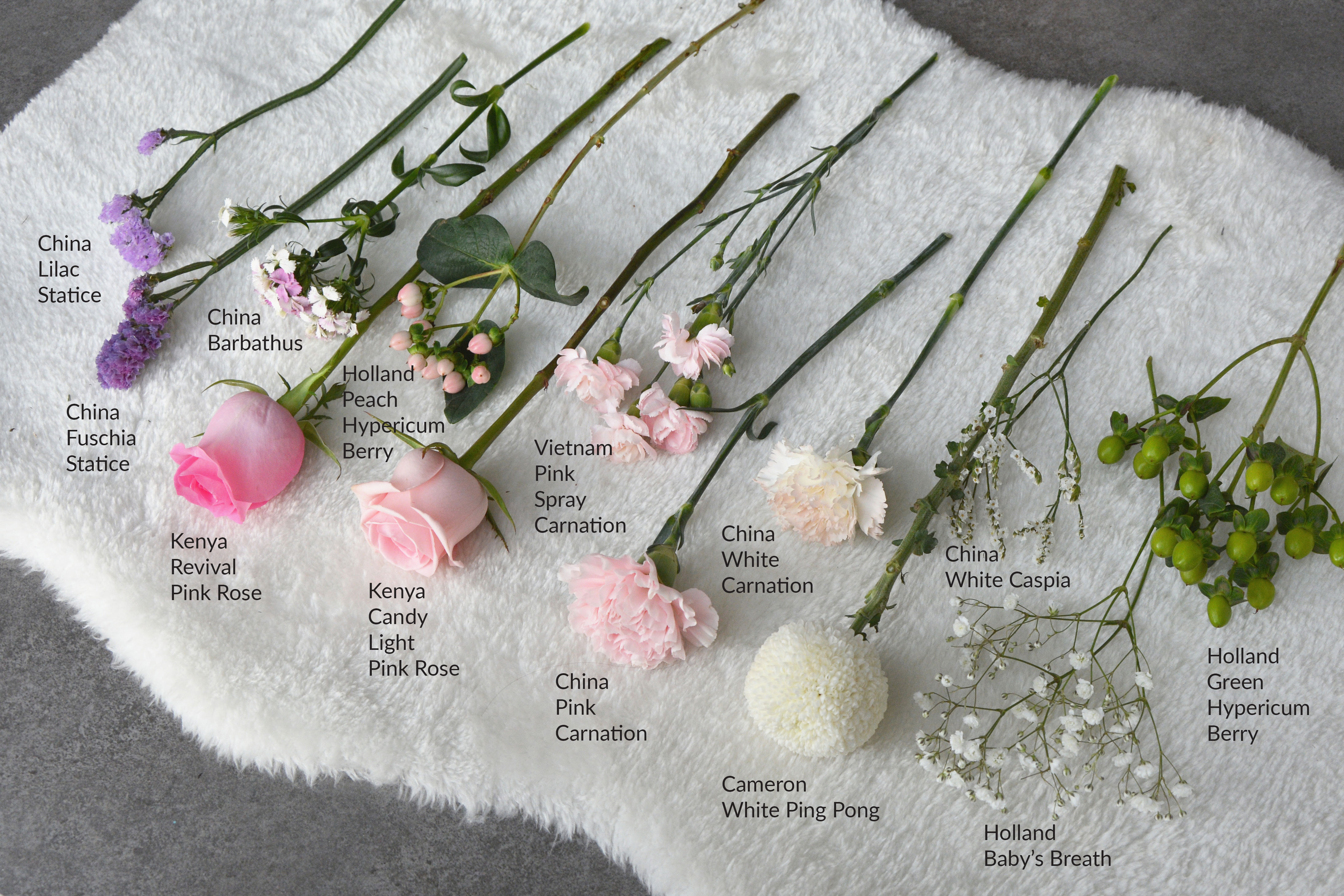 Ohana Flower Gift Box
We extended this design to a flower gift box with hand cream inside the gift box. It's a beautiful and practical gift for mother.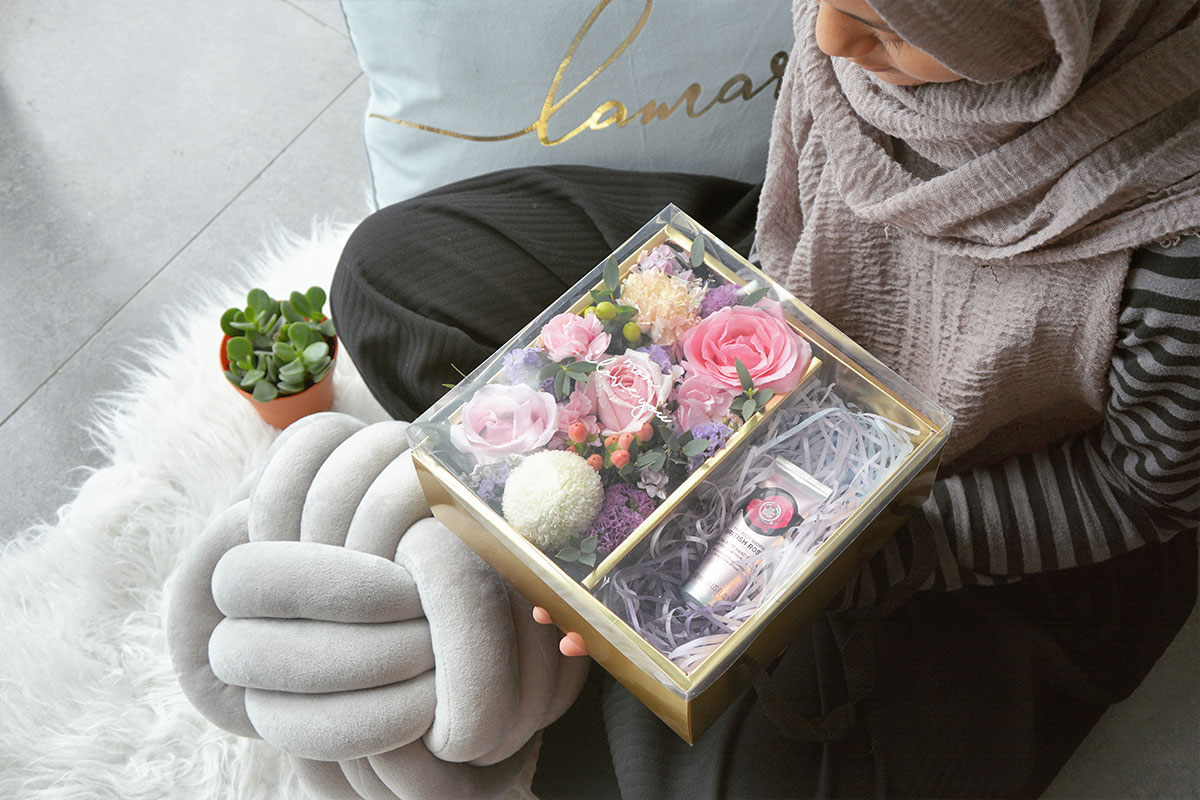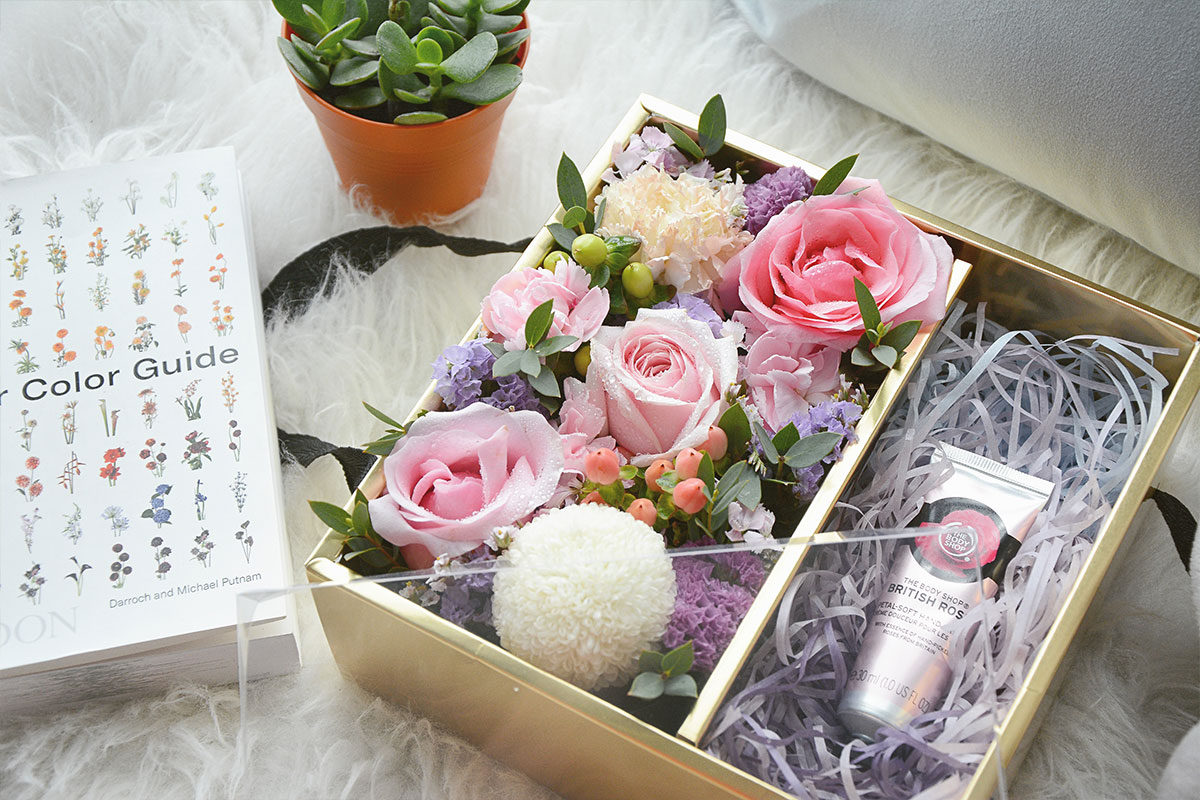 Makuahine Flower Bouquet
The love of a mother for her family is the most powerful force in this world. A mother's shoulder is strong enough to carry all the burden in the world to protect her family.
For this design, we wanted to showcase the inner strength and bravery of a mother. We use red to symbolize the boldness of a mother.
'Makuahine' bouquet uses red and white as the main color tones. The tricky part of this design is that red and white tones are commonly associated with theme like Christmas. So, we have added cappuccino rose to blend the red and white tones. The cappuccino rose also has a vintage color and mood, which tone down the red color from the roses, so that the red color is not overpowering. To match with the vintage color of cappuccino rose, we added scabiosa stelata that has a brown-green color as fillers. We used 3 different types of white flowers that give 3 different textures. Ping pong flower is round, spray carnation is small while white carnation is spiky, so although the 3 different flowers have the same color, they still go well together due to the different texture.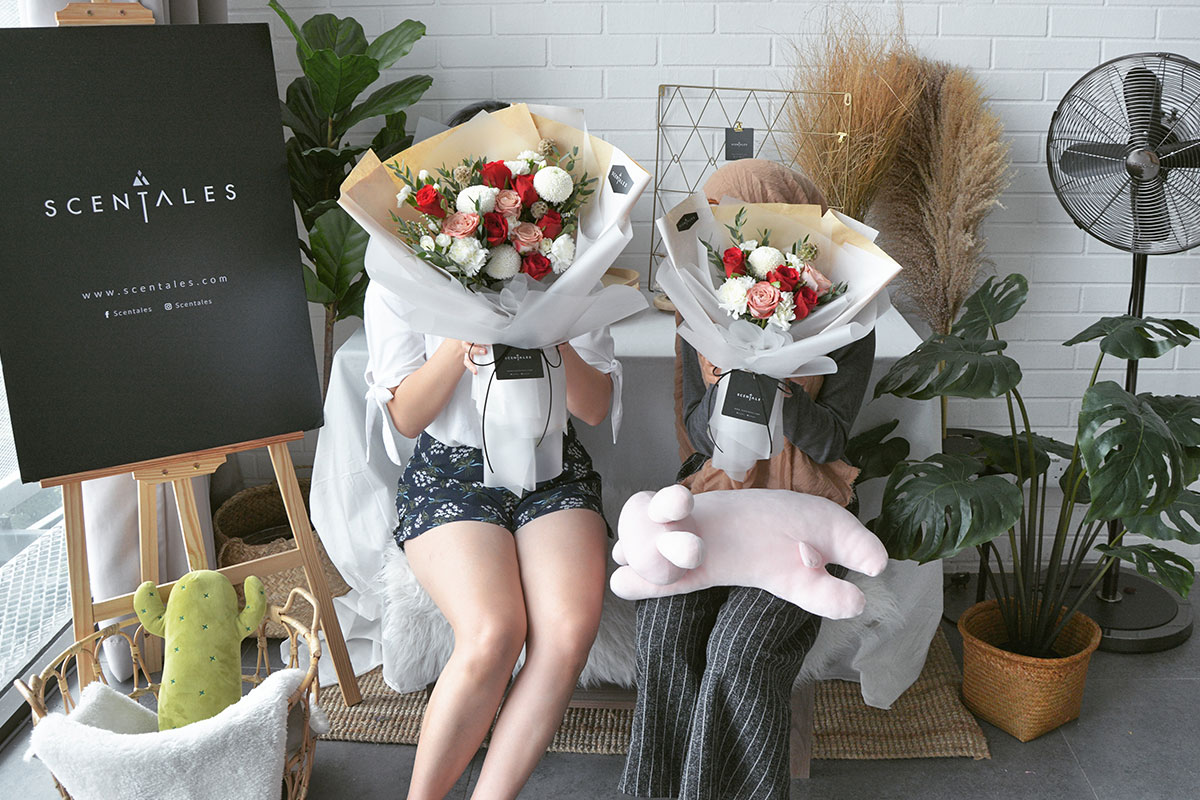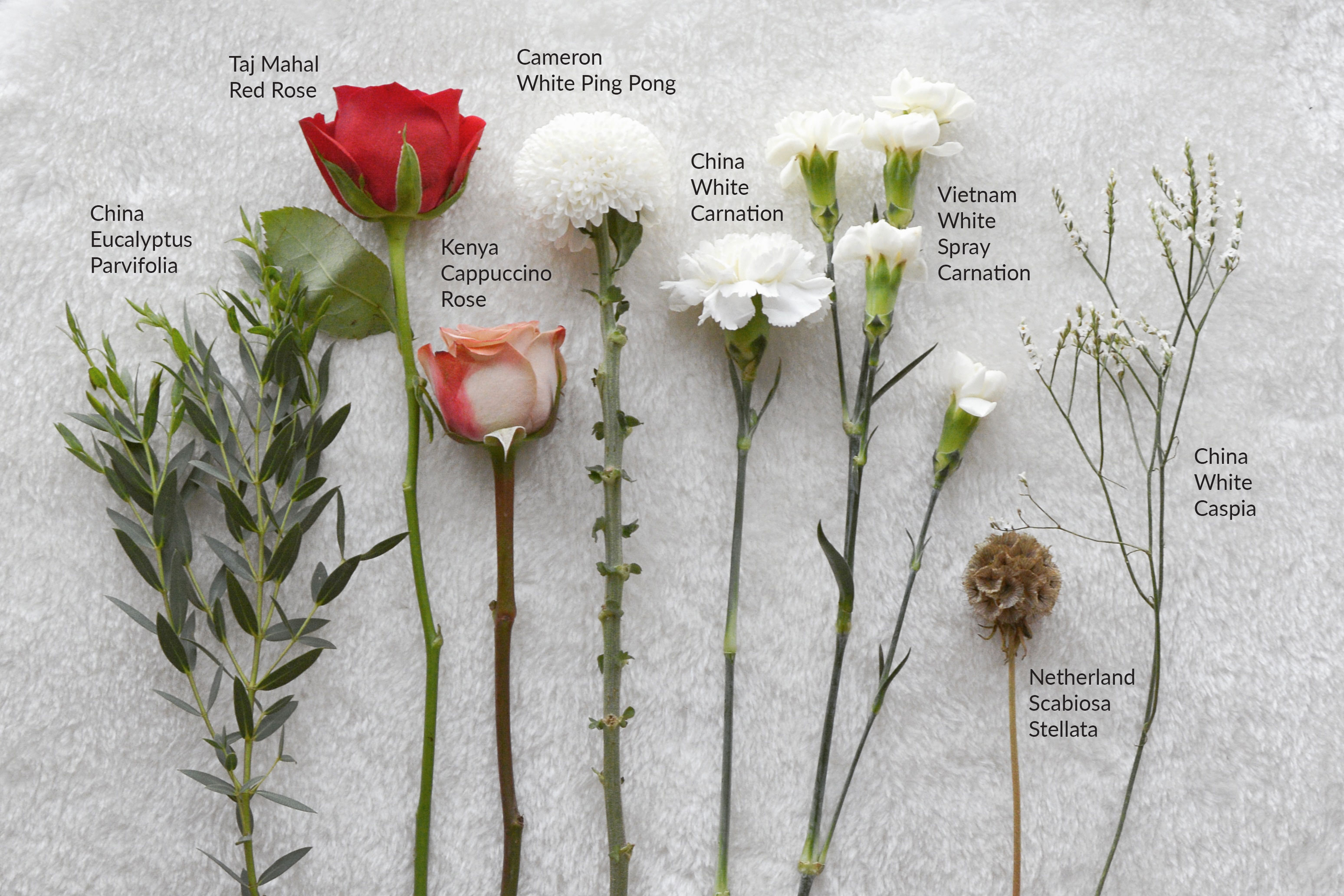 Dried Flowers and Preserved Flower Series
For our dried flowers and preserved flower product series, we go for something a bit more rustic and close to the nature. It is a mother's instinct to protect her children from danger and we can see this from mother nature as well. Birds build their nest from scratch and raise their children from the cozy nest. The mother bird feeds her children and protect them from danger in her nest.
Bird Song Bell Jar
A mother bird's warmth brings life to the eggs she lay. In her cozy nest, she sings the bird song and feeds her children with food. It is a mother's instinct to protect her children from danger.
Our Bird Song bell jar design memorializes this beautiful and warm moment of a mother bird and her children in her cozy home.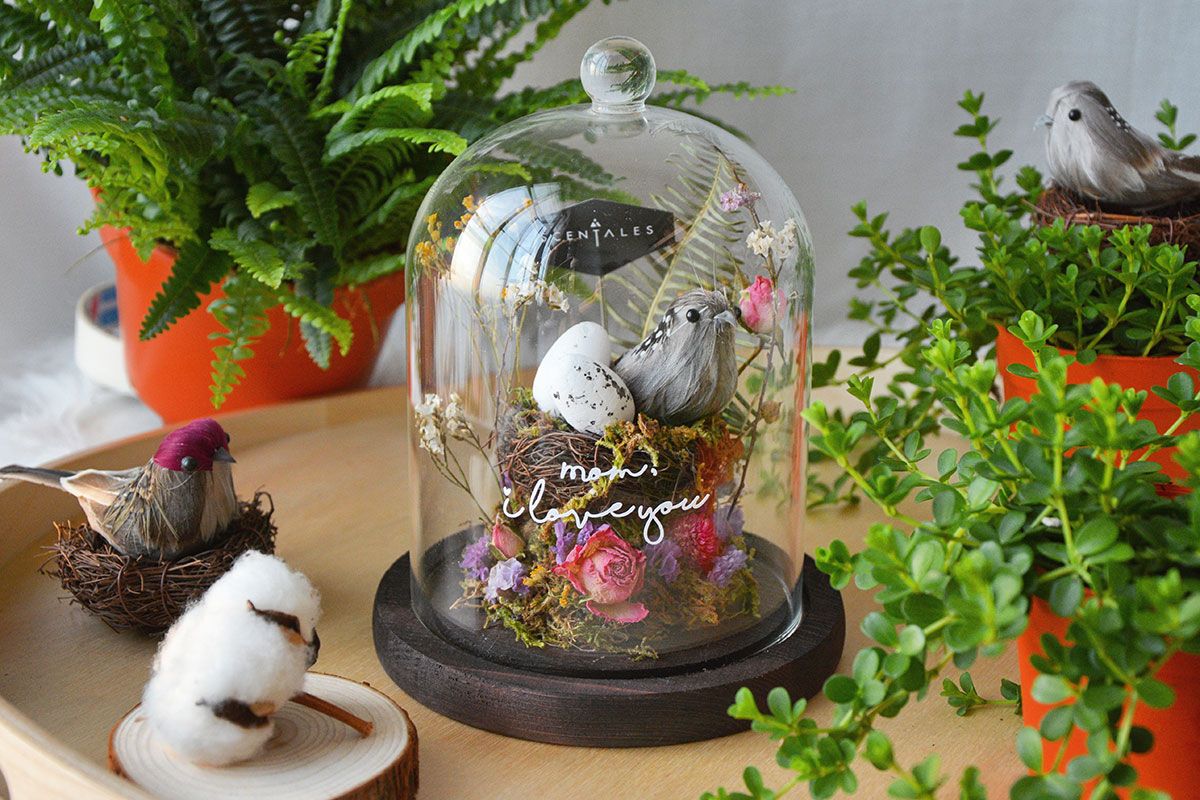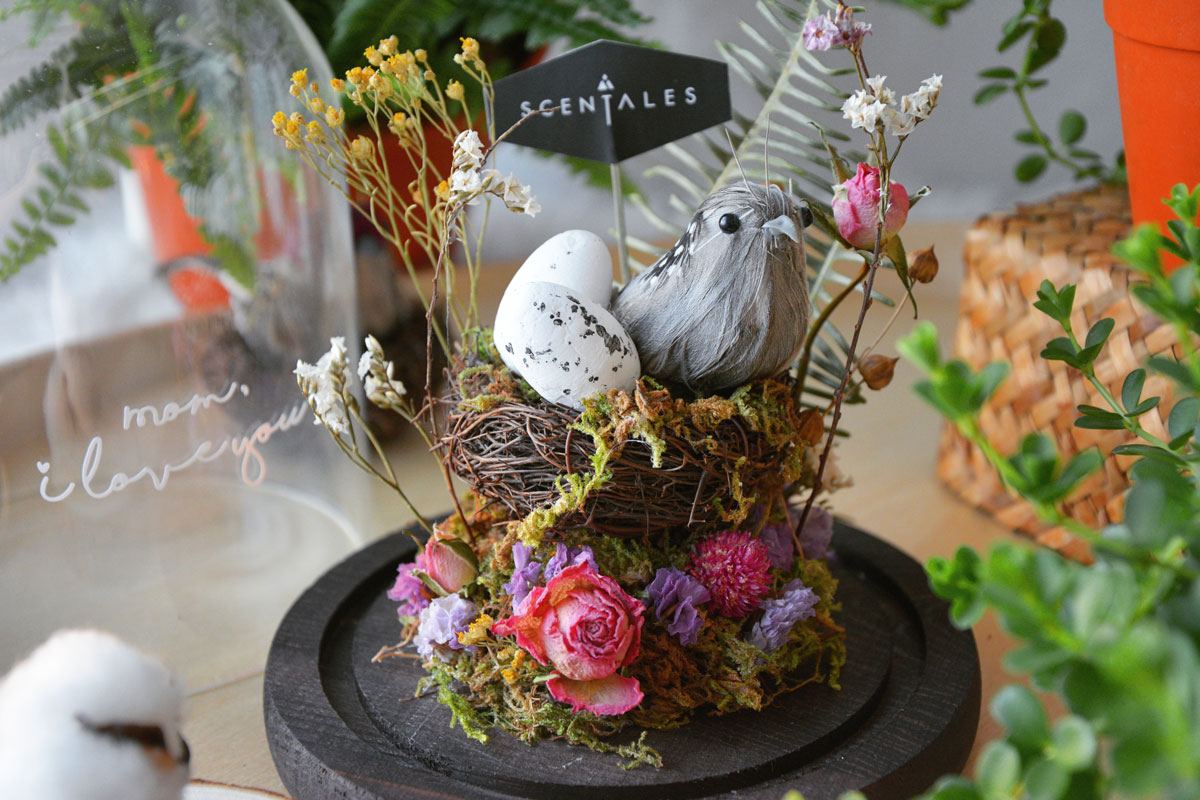 Sanctuary Preserved Rose Glass Globe
A beautiful everlasting rose symbolizes the unconditional love of a mother. A mother provides a home and a sanctuary for her family. Fears and worries melt away under this safe and warm sanctuary. The design also use elements from the bird nest theme with moss underlying the rose and dried flowers surrounding the preserved rose.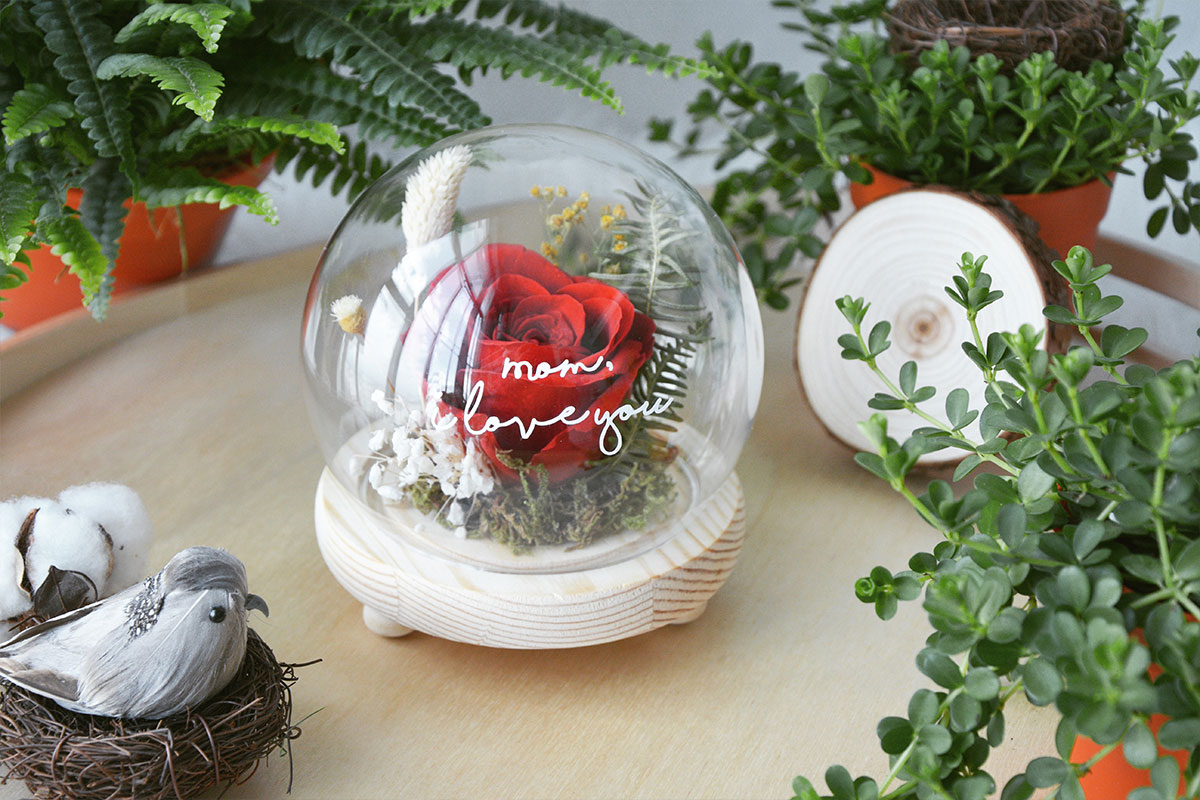 'Mother of the Year' Dried Flowers Wooden Frame
We may have rest day when we work or holidays when we are studying, but our mother never stop working and caring for us since the day we were born. So, we decided to designed a gift that showcase our love and appreciation for mom! Our moms can hang this frame with pride in the house and it will put a smile on her every time she sees it.
The dried flowers colors and the arrangement were arranged to resemble a nest with wild leaves and rustic dried flowers forming the nest.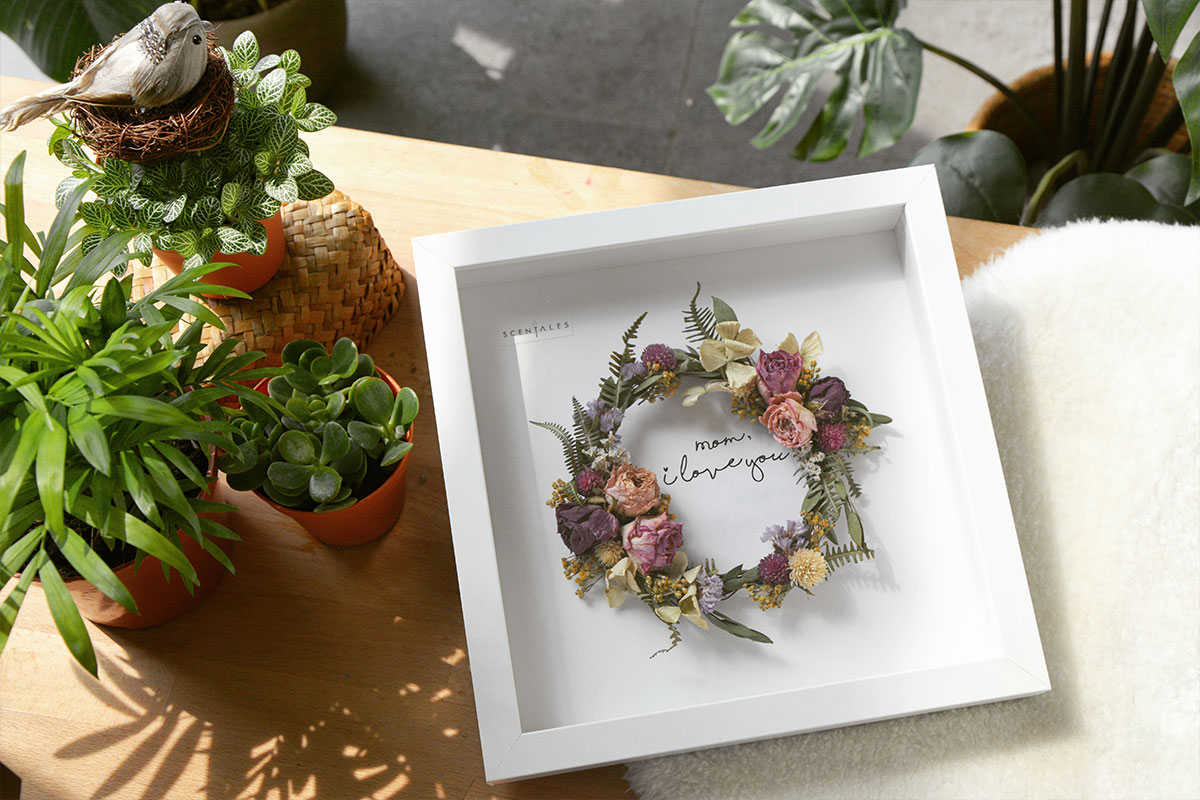 We do hope our 'Family and Home' themed flower gifts can bring the bond of a family a little closer! Let's create more beautiful memories and let our 'Ohana' garden blooms in evergreen.
Check out our 2019 Mother's Day Product Series below:
Written by: Kyle Tan
Photography by: Sharon Lam